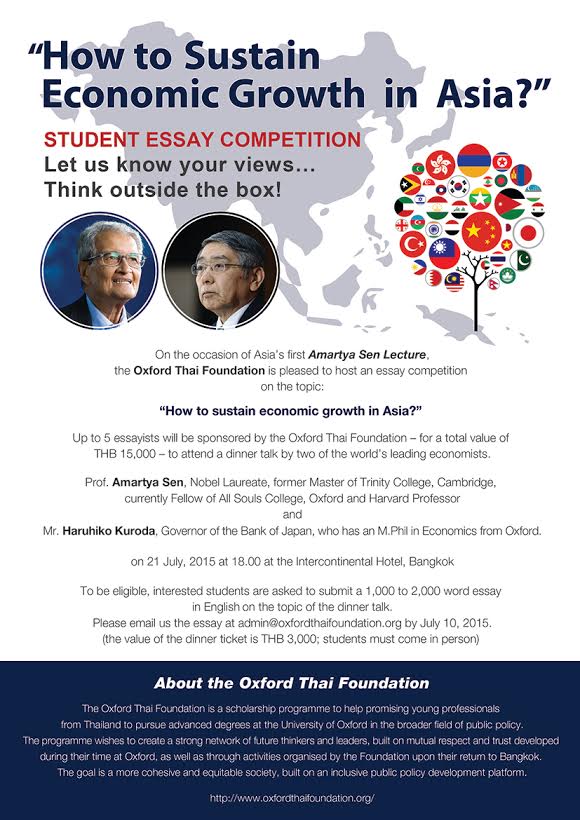 23 Jun

How to Sustain Economic Growth in Asia ? STUDENT ESSAY COMPETITION Let us know your views… Think outside the box!

On the occasion of Asia's first *Amartya Sen Lecture,*
the *Oxford Thai Foundation* is pleased to host an essay competition
on the topic:

*"How to sustain economic growth in Asia?"*

Up to 5 essayists will be sponsored by the Oxford Thai Foundation – for a total value of THB 15,000 – to attend a dinner talk by two of the world's leading economists.

Prof. *Amartya Sen*, Nobel Laureate, former Master of Trinity College,
Cambridge, currently Fellow of All Souls College, Oxford and Harvard Professor and Mr. *Haruhiko Kuroda*, Governor of the Bank of Japan, who has an M.Phil in Economics from Oxford.

on 21 July, 2015 at 18.00 at the Intercontinental Hotel, Bangkok

To be eligible, interested students are asked to submit a 1,000 to 2,000
word essay in English on the topic of the dinner talk.
Please email us the essay at admin@oxfordthaifoundation.org by July 10,2015.
(the value of the dinner ticket is THB 3,000; students must come in person)

*About the Oxford Thai Foundation*

The Oxford Thai Foundation is a scholarship programme to help promising young professionals from Thailand to pursue advanced degrees at the University of Oxford in the broader field of public policy.
The programme wishes to create a strong network of future thinkers and leaders, built on mutual respect and trust developed
during their time at Oxford, as well as through activities organised by
the Foundation upon their return to Bangkok.
The goal is a more cohesive and equitable society, built on an inclusive
public policy development platform.